We characterize population dynamics and spread of fungal plant pathogens using quantitative spatiotemporal epidemiology, population genetics, and whole-genome approaches. We also study how pathogens evolve under stress and how this is related emergence of fungicide resistance.
News from the Lab
August

Nikita, Edgar, Zhian, Thomas and Sydney are heading to the national APS meeting in San Antonio. Check out our posters if you're there.
July 2017
Farewell to Anthony as he departs the Everhart Lab to begin graduate studies in microbiology at the University of Iowa. Good luck, Anthony!
Welcome to Alex Johnson! Starting in July, Alex will be working in our lab half time as a research assistant.
June 2017
Anthony, Nikita, and Edgar each received a travel award to attend the North Central APS meeting in Champaigne. Congratulations on your excellent poster presentations!

Our Intro to R Workshop, co-taught with Dr. Alex Lipka of Univ. of Illinois at Urbana-Champaigne, was a big success

at the 2017 North Central APS Meeting

. We had more than 20 people coding in R.
Welcome to Dr. Margarita Marroquin-Guzman! Starting June 6th, Margarita will be working in our lab as a postdoctoral scholar on a project to characterize the soybean / covercrop microbiomes with different covercrop rotations. Welcome!
May 2017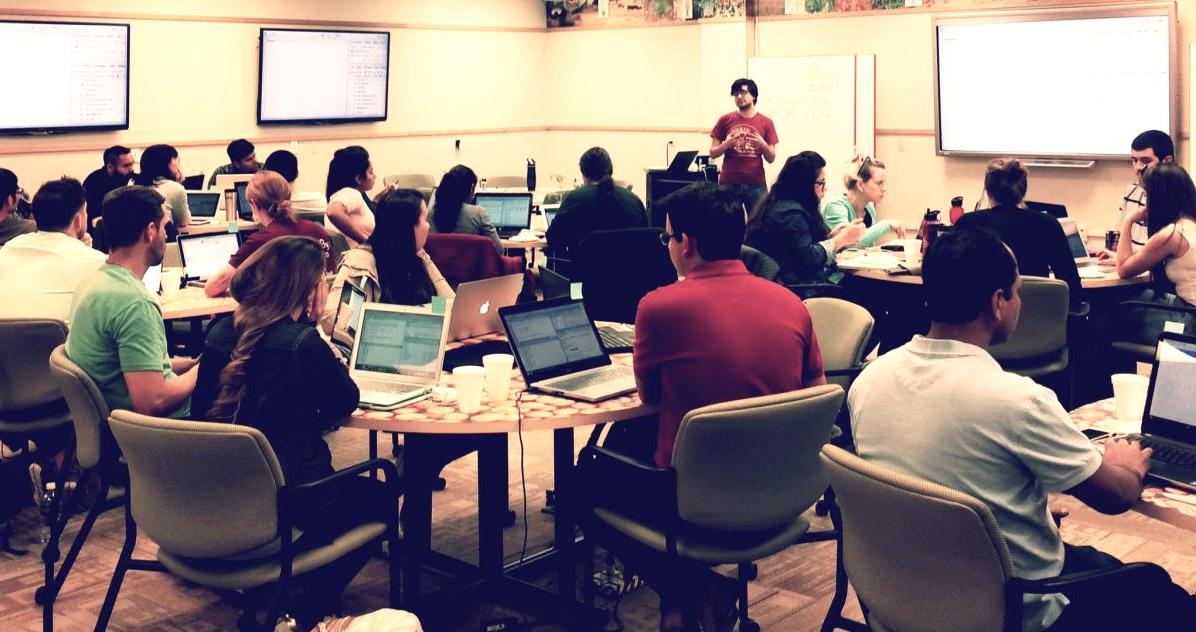 Intro to R Workshop co-developed and taught by Sydney and Zhian to a packed house of more than 50 people from UNL. Photo at right shows Zhian teaching a classroom of captivated graduate students, postdocs, and faculty in the Goodding Learning Center.

April 2017
Nikita wins award for her poster presented at the UNL Spring Research Fair -- congratulations, Nikita!

Edgar, Nikita, and

Anthony presented posters at

the UNL Spring 2017 Research Fair (Edgar, right)
March 2017
Three abstracts submitted for the 2017 national APS meeting in San Antonio, TX
February 2017

Collaborative paper with Guido Schnabel's lab published in Pest Management Science on development of markers for Monilinia fructicola isolate tracking
January 2017
Dr. Zhian Kamvar joins the Everhart Lab as postdoc to work with genomes and genetic data. Welcome!
Thomas' manuscript on the effect of irrigation level for optimal chemigation control of S. sclerotiorum now online and will appear in April 2017 issue of Crop Protection.
Professor Everhart presents our research at the National Sclerotinia Initiative meeting in Minneapolis (right).
December 2016
Our paper now published and shows sublethal fungicides alter mutation rates and genomes: http://dx.doi.org/10.1371/journal.pone.0168079
Best of luck to undergraduate students Morgan and Josh as they pursue opportunities more closely related to their future careers.
November 2016
Sajeewa's manuscript accepted to PLOS ONE
First departmental seminar by Nikita Gambhir entitled "Fungicide Sensitivity: Comparisons of Methods in a Model Plant Pathogen"
October 2016
Postdoc position now available in Mutation Research and Evolutionary Genomics in the Everhart Lab -- this position is now filled
Thomas Miorini's manuscript accepted for publication in Crop Protection
September 2016

Submitted Thomas Miroini's manuscript on chemigation and white mold control to Crop Protection -- cross your fingers!
August 2016
Edgar Nieto-Lopez awarded a prestigious CONACyT fellowship from Mexico and arrives at UNL to begin doctoral studies

Professor Everhart gives presentation as part of the APS Schroth Faces of the Future Symposium at the national meeting
July 2016

Professor Everhart submits proposal to USDA to support novel research on mechanisms of fungicide resistance emergence
June 2016

Nikita Gambhir (second from left below) wins third place for her poster presented at the North Central Division APS meeting in Minneapolis and awarded a travel award to go there. Double-win!
May 2016

Anthony Pannullo awarded IANR ARD Undergraduate Student Research Award for his proposal entitled "Population genetic diversity of Sclerotinia sclerotiorum, causal agent of white mold disease of dry bean, and implications for fungicide resistance / disease management."